Skip to Content
Denver & Front Range, CO's Top Window Replacement Team
Your windows are the most fragile part of your home's exterior. Even the most durable windows are prone to breaking, cracking, and chipping. Whether your windows have suffered from a recent hailstorm or a foul ball, you can trust HHR Exteriors in the Denver and Front Range, Colorado area with all your window replacement needs. We'll help find replacement windows that offer you more than just visual appeal. The right windows can significantly increase your home's insulation and reduce your energy bill.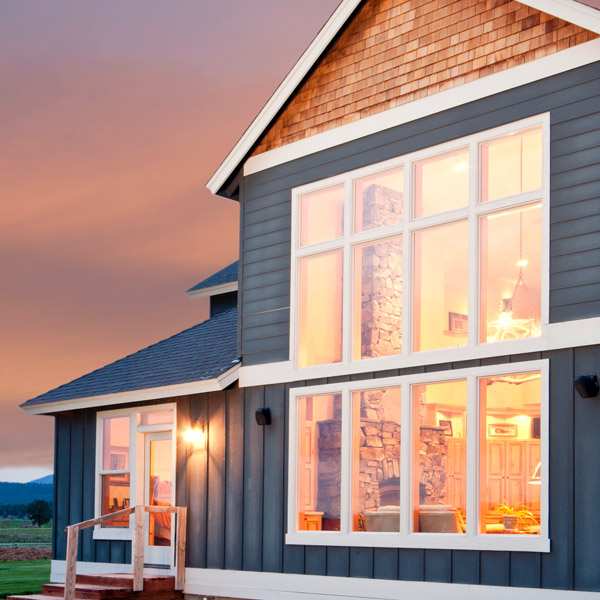 Should I Replace My Windows?
When you hear a window shatter in your house, there's no question. You know you need to replace the broken window right away. Other times, you might be unsure, debating the pros and cons of upgrading your windows. If you're on the fence, we can meet with you and explain what new windows can do for your home. When you see the options, you will probably want to start replacing your windows as soon as possible. Some of the signs that you should consider replacing your windows include:
Chipped, cracked, or broken windows
A draft even when the windows are closed
Warped or wavy glass
Trouble opening and closing windows
Noticeable noise from outside
Decaying or damaged window frames
Outdated style and aesthetic
HHR Exteriors' Vinyl, Composite, Fiberglass & Wood Windows
Choosing the optimal window frame and grille is a balancing act. The three primary materials homeowners use are vinyl, composite, and wood. Each type of window has its pros and cons, but one of them is sure to have the right combination of price, durability, and visual appeal for you. The benefits of each include:
Vinyl
One of the most popular options here in The Centennial State, vinyl provides impressive durability at the most cost-effective price.
Composite
More affordable than wood and more expensive than vinyl, composite windows create a tight seal while also offering protection against impacts, rot, and other common sources of damage.
Fiberglass
Twice as strong as Composite, giving more Glass and less Frame. while offering protection against impacts, rot, fading, and other weather-related damages.
Wood
Wood is hands down the classiest option for windows. Nothing compares to the elegance and strength of wooden window frames and grilles, although they are less budget-friendly than the composite or vinyl options.
Will Your Home Insurance Pay for Your Window Replacement?
We routinely work with all major home insurance providers to perform repairs when a home's windows have been damaged by severe weather. Whether it's a fallen branch or a torrential hailstorm, we'll do everything we can to help you fill out your insurance paperwork. We can even perform an initial inspection of your home to ensure that your insurance adjuster didn't miss any difficult-to-notice damage. If so, we have experience with supplemental filings to help you cover the cost of all necessary repairs.
See What Our Clients Have to Say
HHR exteriors did a great job replacing our roof. They also replaced our screen doors. We will definitely use HHR exteriors in the future.
HHR Exteriors painted our home over the spring, they did an incredible job and were great to work with throughout the whole process.
We had a very good experience with HHR Exteriors replacing our roof in 2020. I would recommend them to everyone.
A fantastic group of people that deliver stellar results. Highly recommend!
Excellent Customer Service!
Get Your Free Estimate Today!